Location: Westover Episcopal Church, 6401 John Tyler Memorial Highway, Charles City, Charles City Co., VA 23030-3310
Title: Westover Church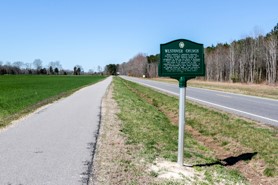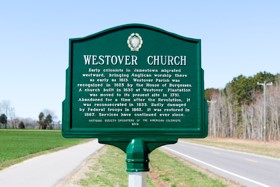 Text:
"Early colonists in Jamestown migrated
westward, bringing Anglican worship there
as early as 1613. Westover Parish was
recognized in 1625 by the House of Burgesses.
A church built in 1630 at Westover Plantation
was moved to its present site in 1731.
Abandoned for a time after the Revolution, it
was reconsecrated in 1833. Badly damaged
by Federal troops in 1862, it was restored in
1867. Services have continued ever since.
National Society Daughters of the American Colonists
2018"
Date of Dedication: 1 March 2018