Location: On the Tombigbee River at Plymouth, in Lowndes Co., MS 38863, near the Columbus Lock and Dam.
Title: Plymouth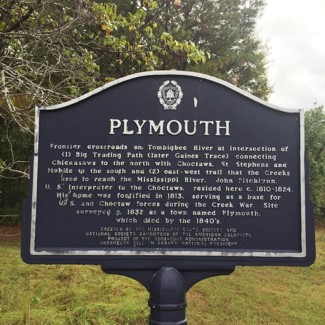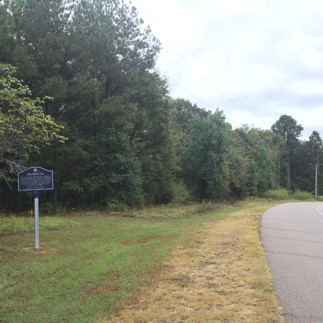 Text:
"Frontier crossroads on Tombigbee River at intersection of
(1) Big Trading Path (later Gaines Trace) connecting
Chickasaws to the north with Chocktaws, St. Stephens and
Mobile to the south and (2) east-west trail that the Creeks
used to reach the Mississippi River. John Pitchlynn,
U.S. interpreter to the Choctaws, resided there c. 1810-1824.
His home ws fortified in 1813, serving as a base for
U.S. and Choctaw forces during the Creek War. Site
surveyed c. 1832 as a town named Plymouth,
which died by the 1840's.
Erected by the Mississippi State Society and
National Society Daughters of the American Colonists
Project of the 2003-2007 Administration
Jacquelyn Gilliam Barnes, National President"
Date of Dedication: 5 March 2005