Location: 24 East Main Street, Marcellus, Onondaga Co., NY 13108-1206. Placed in from of the Marcellus Town Hall, marker is visible from the road.
Title: The Great Genesee Road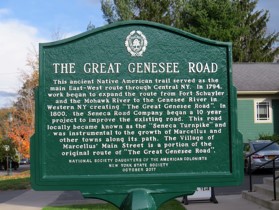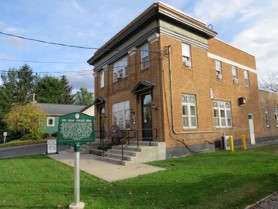 Text:
"This ancient Native American Trail served as the main east-west
route through Central NY. In 1794, work began to expand the
route from Fort Schuyler and the Mohawk River to the Genesee
River in western NY creating "The Great Genesee Road." In 1800, the
Seneca Road Company began a 10-year project to improve the
existing road. This road became known as "The Seneca
Turnpike" and was instrumental to the growth of Marcellus and
other villages and towns along its route.
National Society Daughters of the American Colonists
New York State Society
October 2017"
Date of Dedication: 7 October 2017