Location: Abbot's Creek Primitive Baptist Church near High Point, Davidson Co., NC 27262; located at the intersection of Abbotts Creek Church Road and Brownstown Road
Title: Early American Tombstones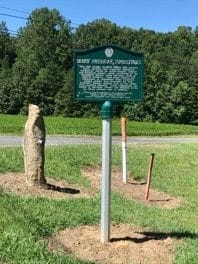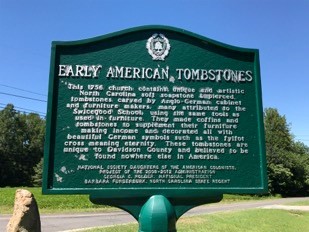 Text:
"This 1756 church contains unique and artistic
North Carolina soft soapstone & pierced
tombstones carved by Anglo-German cabinet
and furniture makers, many attributed to the
Swicegood School, using the same tools as
used in furniture. They made coffins and
tombstones to supplement their furniture
making income and decorated all with
beautiful German symbols such as the fylfot
cross meaning eternity. These tombstones are
unique to Davidson County and believed to be
found nowhere else in America.
National Society Daughters of the American Colonists
Project of the 2008-2012 Administration
Georgia C. Holder, National President
Barbara Funderburk, North Carolina State Regent"
Date of Dedication: 16 September 2011