25 APRIL 1936 — PATENTEES MONUMENT
WASHINGTON, D.C.
THIS IS HIDDEN TEXT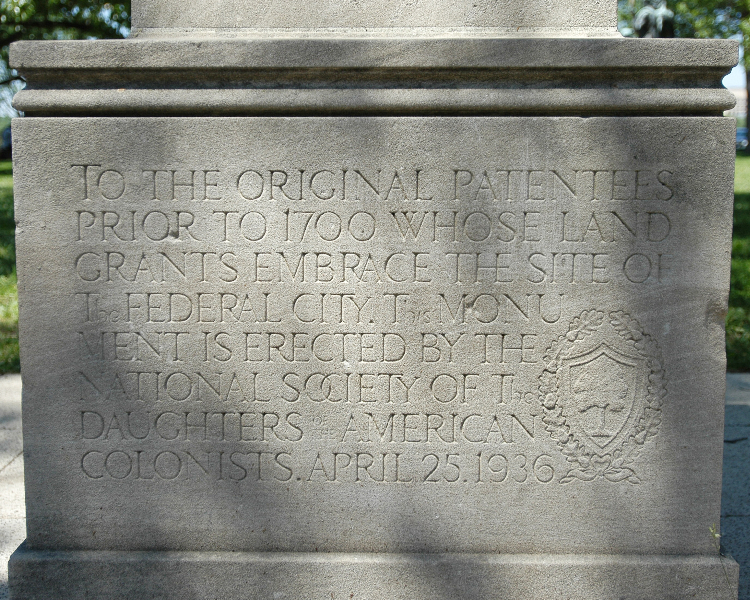 April 25, 1936 was a red-letter day in the history of the National Society, Daughters of the American Colonists, when the Fifteenth Anniversary of its organization in was fittingly celebrated by the dedication of a memorial to the original patentees of the site of present Federal City.
The monument is beautiful in its simplicity; it stands seven feet high, and is of a very fine grade of Indiana limestone. It is situated East of and adjoining The Ellipse, and South of the Treasury Department, and has been presented to the Government, through the National Park Service. The following inscription is carved on the front of the three-foot base, with the Society's insignia in the lower right hand corner:
TO THE ORIGINAL PATENTEES
PRIOR TO 1700 WHOSE LAND
GRANTS EMBRACE THE SITE OF
THE FEDERAL CITY. THIS MONU
MENT IS ERECTED BY THE
NATIONAL SOCIETY OF The
DAUGHTERS OF THE AMERICAN
COLONISTS, APRIL 25. 1936.
The names of the eighteen patentees are carved on the other three sides of the base, six on each side.  (Note:  The tract names are omitted on the monument for lack of space):
Robert Troope, 1663,
George Thompson, 1663
Francis Pope, 1663
John Langworth, 1664
John Lewger, prior to 1664
Richard & William Pinner


THIS IS HIDDEN TEXT

Zachariah Wade, 1670
Richard Evans, 1685
Col. Henry Jowles, 1685
Andrew Clarke, 1685
John Peerce (Pierce, Pearce), 1685
Walter Houp, "Houp Yard", 1686


THIS IS HIDDEN TEXT

Walter Thompson, 1686
Col. Ninian Beall, 1687
John Watson, 1687
William Hutchison, 1687
Walter Evans, 1698
William Atcheson, 1698


THIS IS HIDDEN TEXT
On three sides of the shaft are carved panels depicting respectively, a wild turkey, a large ear of corn or Indian Maize, and a Potomac herring, symbolizing the products of the woods, earth and water that furnished subsistence to the colonists. The fourth panel shows a tobacco plant, representing the chief commodity as well as the "currency" of the Colonial period.