26 APRIL 1935 — CAPE HENRY CROSS
HENRY, VIRGINIA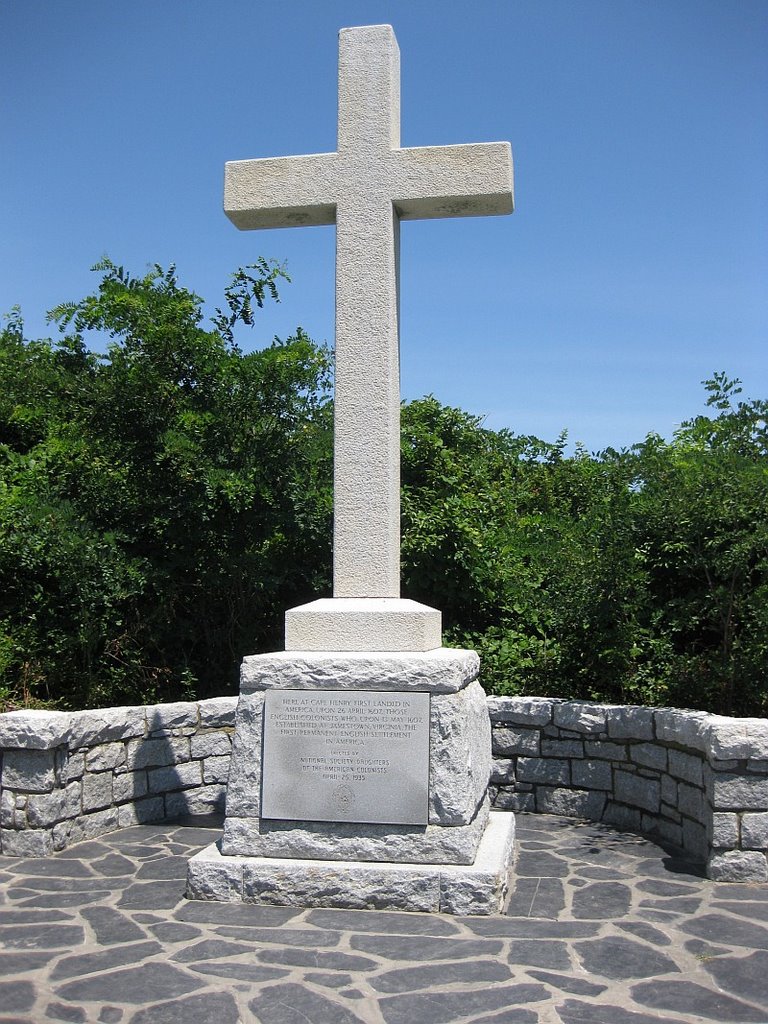 In commemoration of the landing of the first English Colonists on our native soil on April 26, 1607,  the Daughters of the American Colonists erected a handsome granite cross to replace the old wooden one that had been there.  This cross 'as dedicated by the National Society on April 26, 1936.
Our Cross is located in Fort Story, on ground allocated to us by the Government, therefore at the close of the dedication it was presented to the Government, and accepted by a representative of the Secretary of War.
Some 105 sea-weary colonists descried the Land of Virginia about "foure a clocke in the morning," according to one account; they had left England late in 1606 and had spent the next five months in three small ships.  The largest ship, the Susan Constant, was 75 feet long.  At Cape Henry the land was claimed for God and King, and the colonists remained there four days before sailing on to Jamestown.  Captain Christopher Newport was commander of the fleet, and he and Edward Maria Wingfield, Bartholomew Gosnold, and "30 others" were the first to set foot on the new land.  On April 29 the colonists "set up a Crosse at Chesupioc Bay, and named that place Cape Henry."
The members of the Virginia Company had the fore-thought to make, among others, two arrangements often overlooked but highly important to the success of the undertaking.  First, they employed one of the leading mariners of the day, Captain Christopher Newport, to lead the undertaking; he was placed in sole charge and command of the three ships and the 105 persons who embarked upon them.  Only when he had landed the contingent safely at Cape Henry on April 26, 1607 did he relinquish his authority to a Council which had been named in sealed orders before the departure from England.
A second provision was to see that the Colony, once planted, was kept in communication with the promoters in England.  To this end Captain Newport was further engaged, and he made four trips to Virginia subsequent to the initial voyage in 1607.
As the years go by there will be many pilgrimages to this hallowed spot where the Rev. Robert Hunt, our forefather, knelt over 350 years ago in prayer thanking God for this new land and for the safety of their journey across the storm tossed seas.  There are outstanding plans being made for the beautification of the area surrounding our cross.