24 NOVEMBER 1969 — BERKELEY HUNDRED
CHARLES CITY, VIRGINIA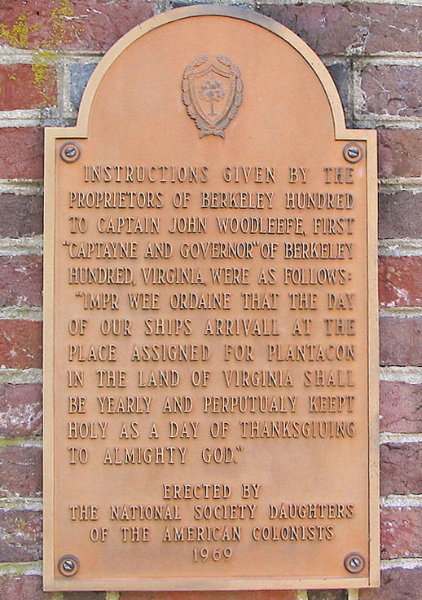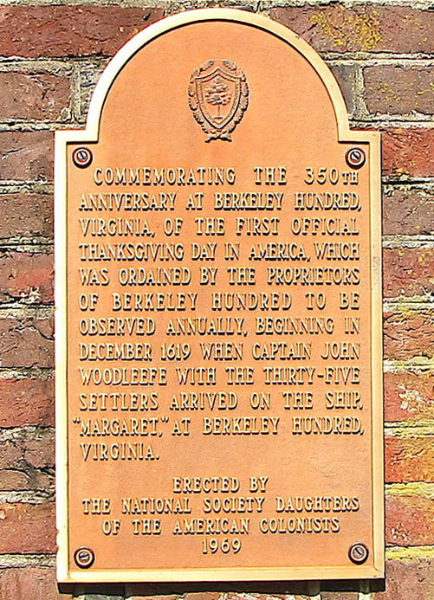 THIS IS HIDDEN TEXT
On the 350th anniversary of the First Chartered Thanksgiving in America (December 4, 1619) a brick entrance and marker at the entrance to the Thanksgiving area at Berkeley Hundred was dedicated on November 23, 1969, by the National Society, Daughters of the American Colonists.
This entrance is to the five-terraced Thanksgiving area where Captain John Woodleefe with the thirty-eight settlers arrived on the ship "Margaret" on December 4, 1619. On the day of their arrival their charter authorized them to hold on that day a Thanksgiving Day service and to do so annually thereafter. This they did, according to the records, but in 1622 all of the settlers were annihilated during the Indian Massacre on Good Friday, and it was not again observed at Berkeley until 1956. It has now been developed into a grass terraced amphitheater, with a stage along the James River where the settlers landed, with a replica of the little ship alongside.
Mr. John Jamieson, father of the present owner of Berkeley Hundred and Plantation, bought Berkeley and restored the mansion built in 1726 by the Harrison family. In the New York Public Library the old papers were discovered of Smyth of Nibley "Virginia Papers 1616-1619" which John Smyth of Nibley, one of the Lords Proprietors who financed the sending of thirty-eight settlers of Virginia from Berkeley Hundred in Gloucestershire, England, had written during Smyth's thirty-four years as historian and custodian of Berkeley Hundred in England. According to these papers, it was founded a year before Plymouth, and is the only one in which the records of its origin, settlement and management are fully preserved. The rules and materials of its settlement, down to the smallest detail of the cargoes of the ship, are told us in the papers.
Instructions to Captain Woodleefe, First Governor of Berkeley Hundred Plantation, in 1619, were:—as engraved on the marker:
"Impr wee ordaine that the day of our ships
arrivall at the place assigned for plantation
in the land of Virginia shall be yearly and
perpetualy keept holy as a day of
Thanksgiving to Almighty God."
The gateway and markers were presented to the present owners of Berkeley Hundred and to the safe-keeping of the Virginia Thanksgiving Festival, Inc. as custodians, in behalf of the people of the United States.
Berkeley Plantation is located on historic Route 5, the paved Colonial road, halfway between Williamsburg and Richmond, Virginia, near Charles City.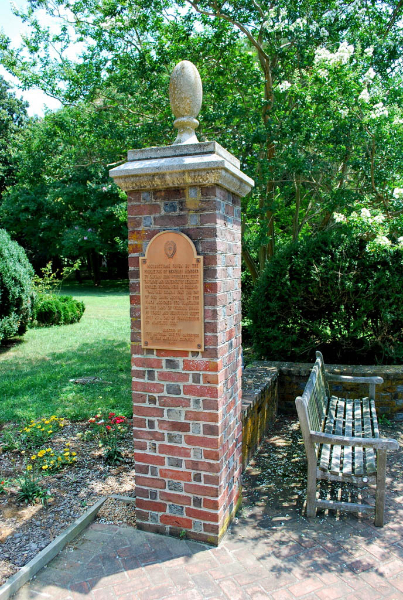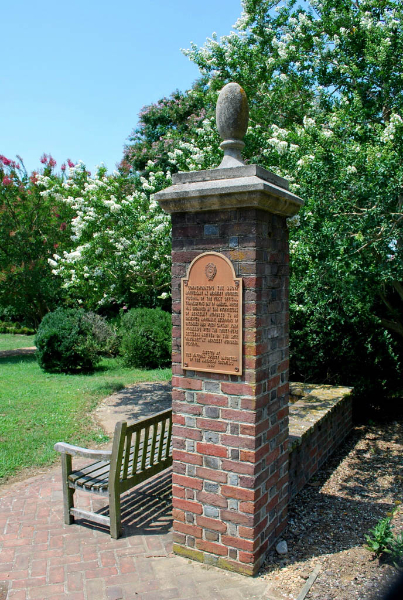 THIS IS HIDDEN TEXT
THIS IS HIDDEN TEXT
THIS IS HIDDEN TEXT